Investment Casting Foundry
Investment casting, also known as lost wax casting or precision casting, is a process that has been practiced for thousands of years, with the lost wax process being one of the oldest known metal forming techniques.
Due to the complex structure in dimension and geometric, the investment castings are produced to reach net shape or near net shape, minimizing the need for secondary processes such as lathing, turning or other CNC machining process.
Investment casting is a manufacturing process that can be traced back over 5,000 years ago. From then, when beeswax formed the pattern, to today's high technology waxes, refractory materials and special alloys, the lost wax casting ensure high-quality components are produced with the advantages of accuracy, repeatability, and integrity.
Investment casting derives its name from the fact that the pattern is invested, or surrounded, with a refractory material. The wax patterns require extreme care for they are not strong enough to withstand forces encountered during the mold making.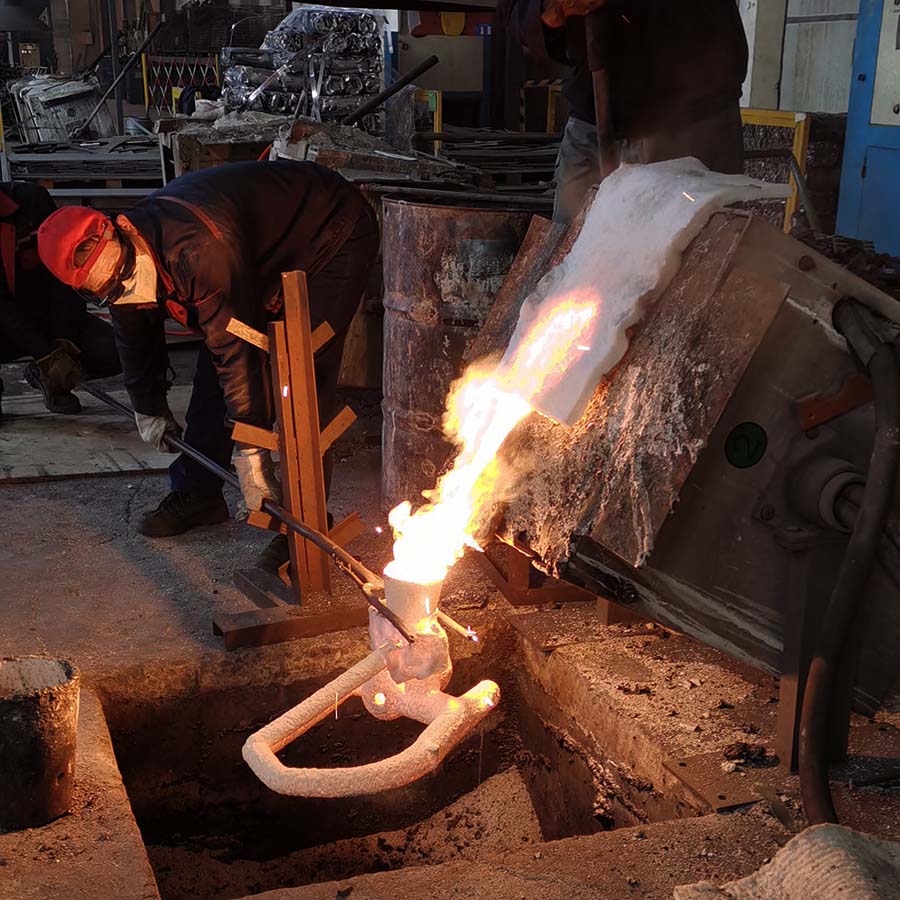 Investment Casting Foundry
What We Can Achieve by Lost Wax Investment Casting
Lost wax investment castings with silica sol as binder material can reach dimensional tolerance grade CT4 ~ CT7 according to ISO 8062. Our fully organized equipment and automation process controls allow for consistent and repeatable tolerances as close as ± 0.1 mm. The lost wax casting parts can also be produced in a wide size range, they may be as small as 10 mm long x 10 mm wide x 10 mm high and weigh as little as 0.01 kg, or as big as 1000 mm in length and weigh as much as 200 kg.
RMC is an industry leading manufacturer of top-quality investment castings committed to delivering excellent quality, superior value and exceptional customer experience. RMC has the experience, technical expertise and quality assurance processes to consistently and reliably deliver an extensive range of castings with further processing.
• Max Size of Casting: 1,000 mm × 800 mm × 800 mm
• Cast Weight Range: 0.5 kg - 200 kg
• Annual Capacity: 3,000 tons
• Bond Materials for Shell Building: Silica Sol, Water Glass or their mixtures.
• Casting Tolerances: CT4 ~ CT7 according to ISO 8062 or on Request.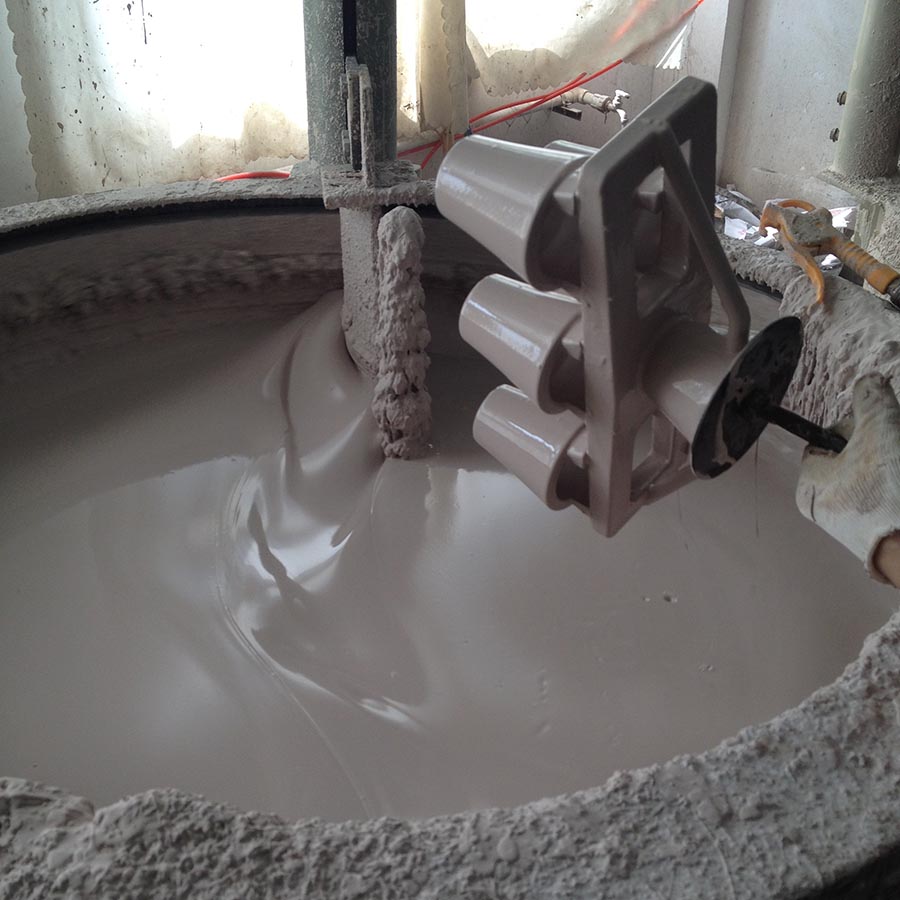 Shell Making During Investment Casting
What Metals and Alloys We Can Pour by Investment Casting
The investment casting foundry at RMC is capable of meeting a wide variety of alloys material designations and specifications according to ASTM, SAE, AISI, ACI, DIN, GOST, EN, ISO, and GB standards. We have more than 100 different ferrous and non-ferrous alloys with which we cast parts using complex design structure.
• Gray Cast Iron: HT150 ~ HT350; EN-GJL-100, EN-GJL-150, EN-GJL-200, EN-GJL-250, EN-GJL-300, EN-GJL-350; GG10, GG15, GG20, GG25, GG30, GG40.
• Ductile Cast Iron (Nodular Iron): GGG40, GGG45, GGG50, GGG60, GGG70, GGG80; EN-GJS-400-18, EN-GJS-400-15, EN-GJS-450-10, EN-GJS-500-7, EN-GJS-600-3, EN-GJS-700-2, EN-GJS-800-2.
• Carbon Steel: AISI 1020 ~ AISI 1060, C30, C40, C45.
• Alloy Steel: ZG20SiMn, ZG30SiMn, ZG30CrMo, ZG35CrMo, ZG35SiMn, ZG35CrMnSi, ZG40Mn, ZG40Cr, ZG42Cr, ZG42CrMo, etc.
• Stainless Steel: 304, 304L, 316, 316L, 1.4401, 1.4408, 1.4301, 1.4305, 1.4307, 1.4404, 1.4571...etc.

• Brass, Bronze and other Copper-based Alloys

•

Nickel Based Alloy (Inconel 625, Inconel 713, Inconel 718 etc), Cobalt Based Alloys

• Corrosion-resistant Steel, Seawater-resistant Steel, High-temperature Steel, High-tensile Steel, Duplex Stainless Steel.

• Other Alloys as request or according to ASTM, SAE, AISI, GOST, DIN, EN, ISO, and GB.
Stainless Steel Investment Casting
Steps of Lost Wax Investment Casting
Investment casting is a multi-step process that produces near-net shape precision casting parts. The process begins with wax being injected into a die to create a pattern of the finished product. The patterns are then affixed to wax runner bars to create the cluster.
During the investment casting process, a special machine dips the cluster repeatedly into a slurry to develop a ceramic shell, and then the wax is removed in a steam autoclave. Once the wax is removed, the ceramic shell is fired and then filled with molten metal to create the part. One advantage of investment casting is that the wax can be reused. 
Investment casting (Lost wax casting process) requires a metal die (usually in aluminum), wax, ceramic slurry, furnace, molten metal, and other machines needed for wax injection, sand blasting, vibratory tumbling, cutting, and grinding. The investment casting process mainly involves the following steps:
1- Metal Die Making
Based on the drawings and requirements of the desired cast part, the metal die or mold, usually in aluminum, will be design and produced. The cavity will form the same size and structure of desired cast part.
2- Wax Injection
Also as known as pattern formation, Lost wax casting patterns are created by injecting molten wax into the metal die above.
3- Slurry Assembly
The wax patterns are then attached to a gating system, which usually is a set of channels through which a molten metal flsows to the mold cavity. After that, a structure like a tree is formed, which is suitable for mass production.
4- Shell Building
The investment castings outer shell casing is built up through dipping into a ceramic bath and then immediately coated with sand for several times.
5- De-waxing
The inner cavity of precision investment casting is then dewaxed, which leaves a hollow outer ceramic shell layer. The hollows are just the same space as the desired castings.
6- Pre-Pouring Analysis
Pre-pouring analysis means that the foundry need to check and analyse the chemical composition of the molten metal to see if they are meet the require numbers or the stardard. Some times, this analysis would be made several times.
7- Pouring & Solidification
The ceramic shell with cavity should be pre-heated before pouring. This prevents shock and the ceramic shell from cracking once the liquid metal at a high temperature is poured into the cavity.
8- Sawing or Cutting
Once the metal has cooled and solidified, the cast part(s) is then removed from the gating system tree cluster via shaking, cutting or friction sawing off the individual cast part.
9- Shot Blasting and Secondary Processing
The casting part is then fully customized through grinding or additional heat treatments. Secondary machining or surface treatment might also be required depending on the requirements of the part.
10- Packing and Delivery
Then the lost wax casting parts will be fully tested for the dimensions, surface, mechanical properties and other required tests before packing and delivery.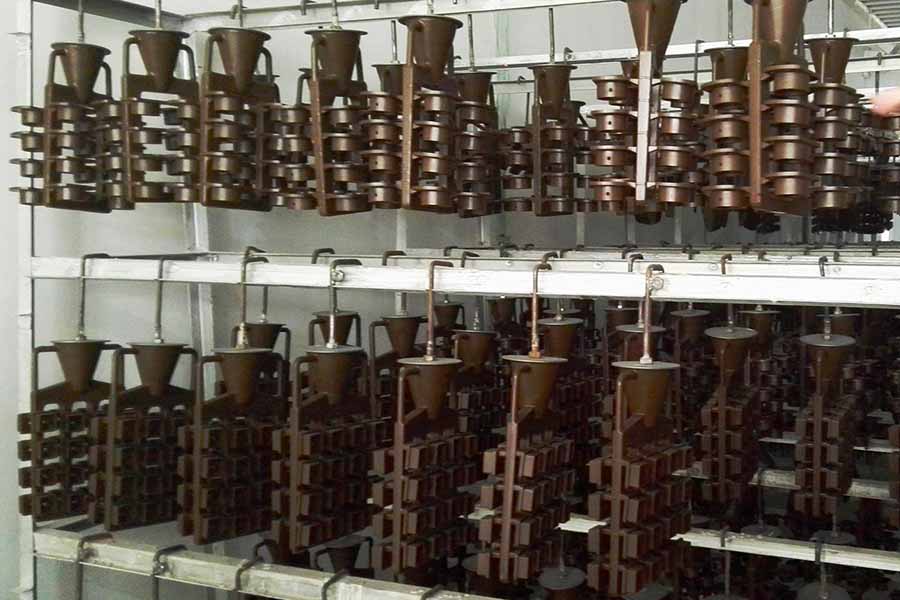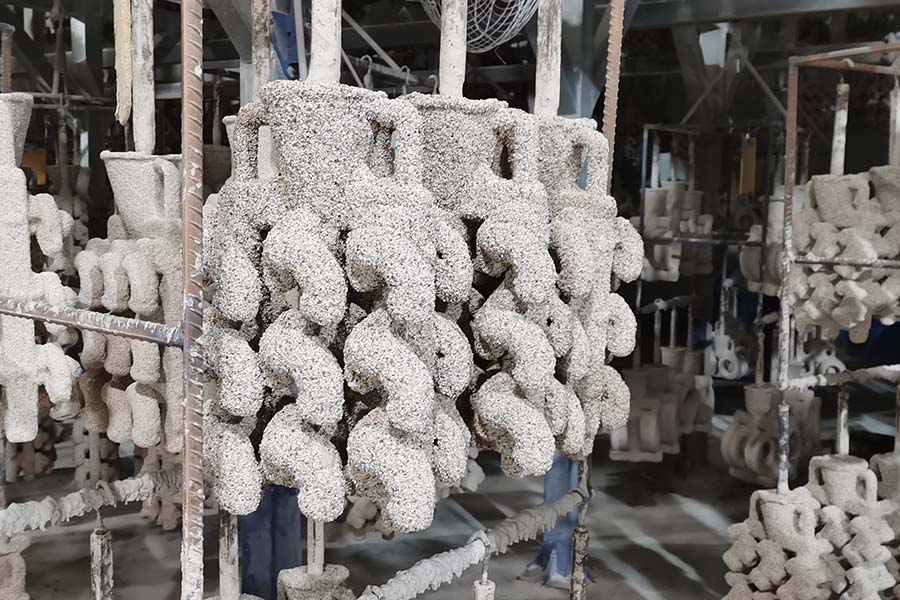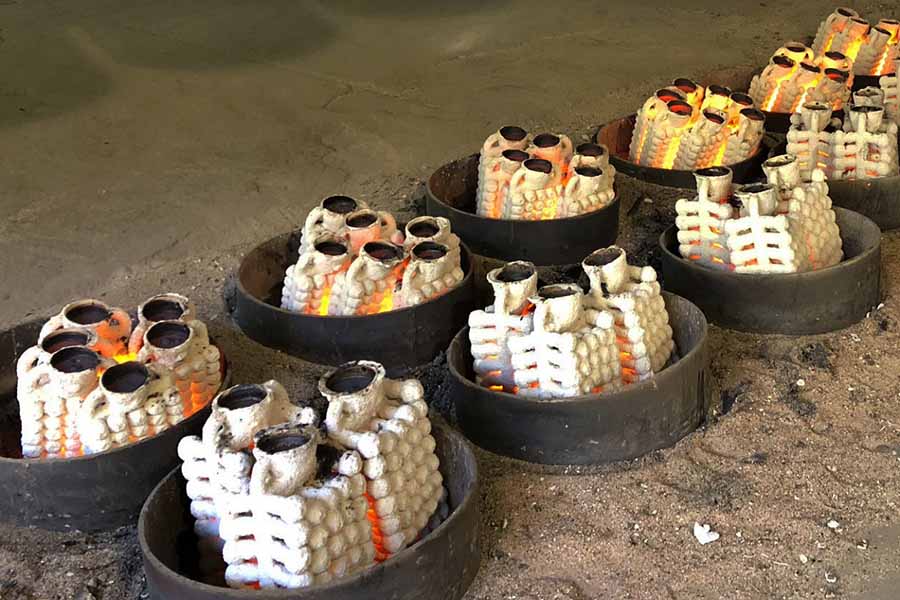 Cooling and Solidification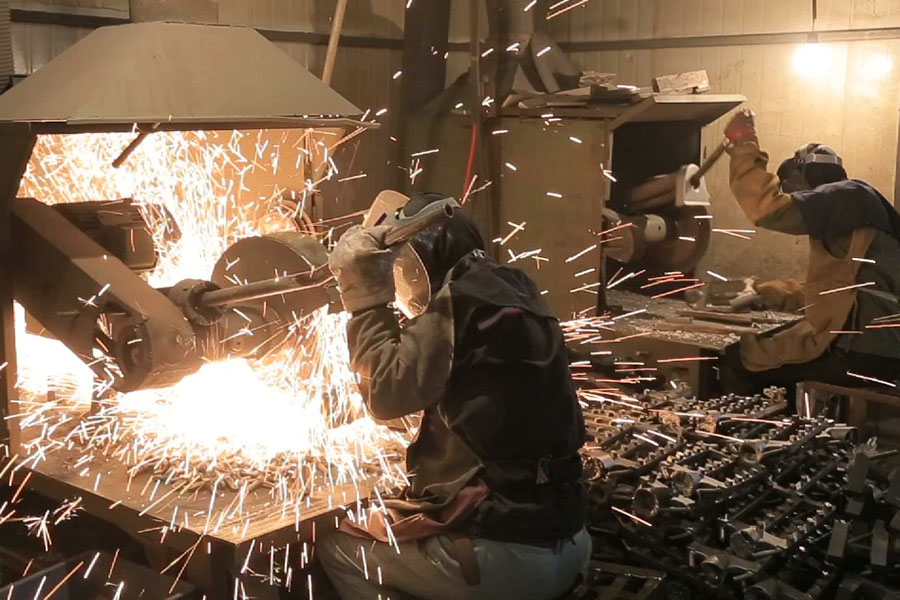 How We Inspect the Investment Castings
• Spectrographic and manual quantitative analysis

• Metallographic analysis

•  Dimensional tests

•  CMM

• Brinell, Rockwell and Vickers hardness inspection

• Mechanical property analysis

• Low and normal temperature impact testing

• Cleanliness inspection

• UT, MT and RT inspection

• Staic and Dynamic Balancing

• Sealing and Pressure Testing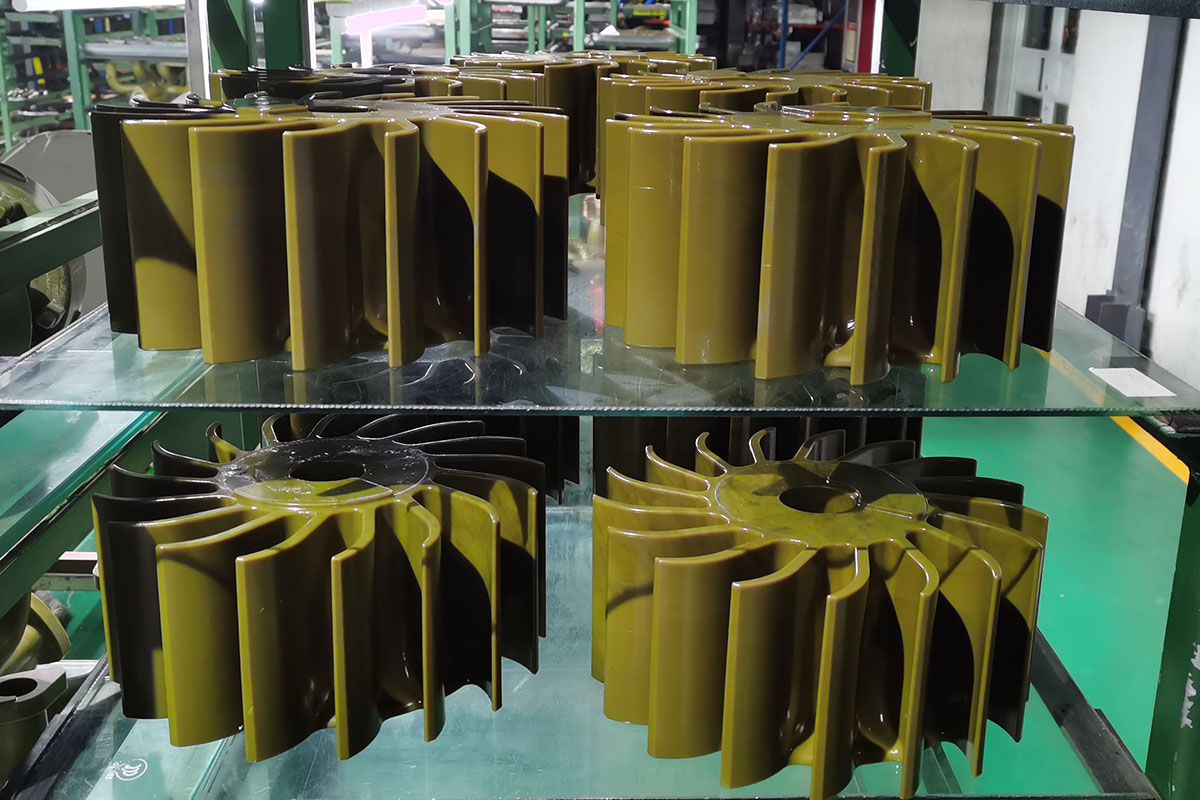 What Facilities We Rely On for Investment Casting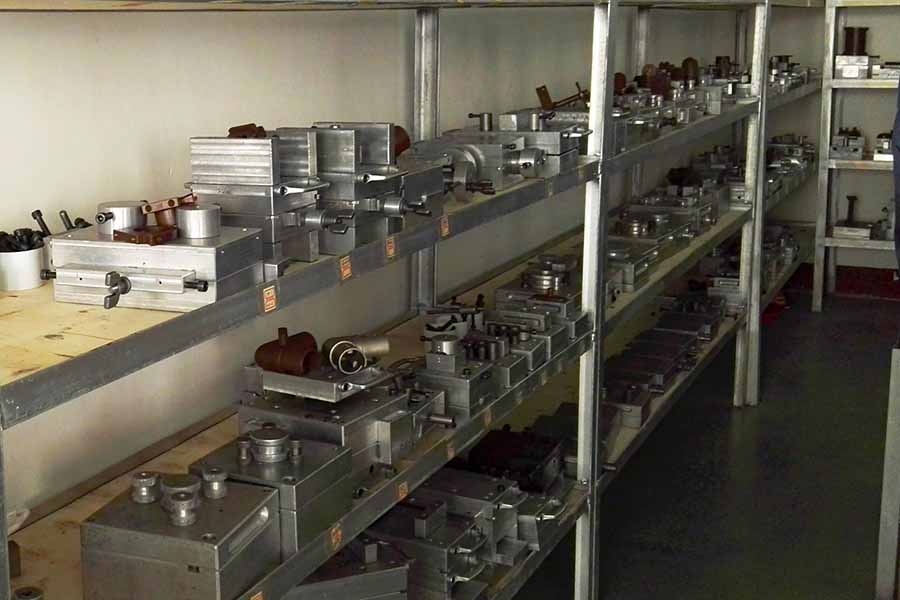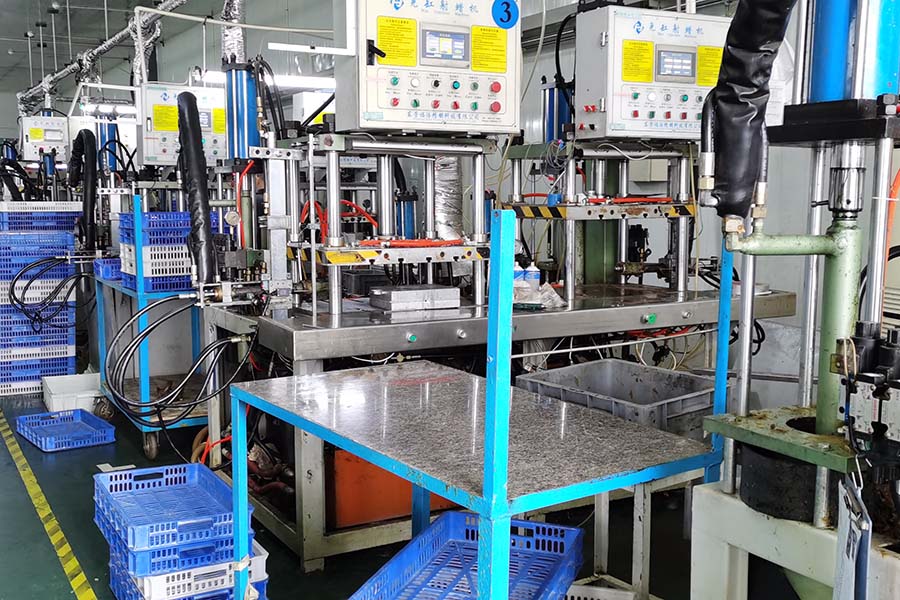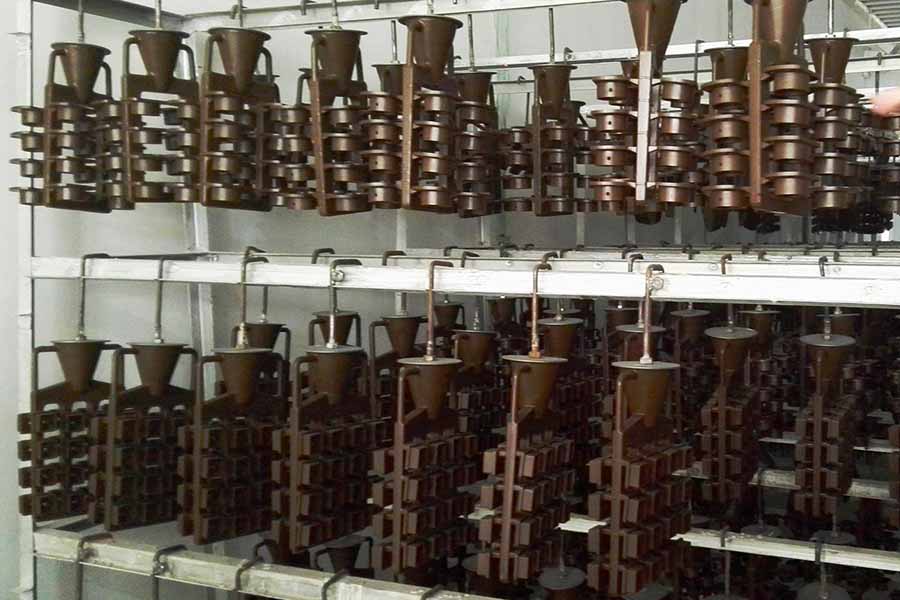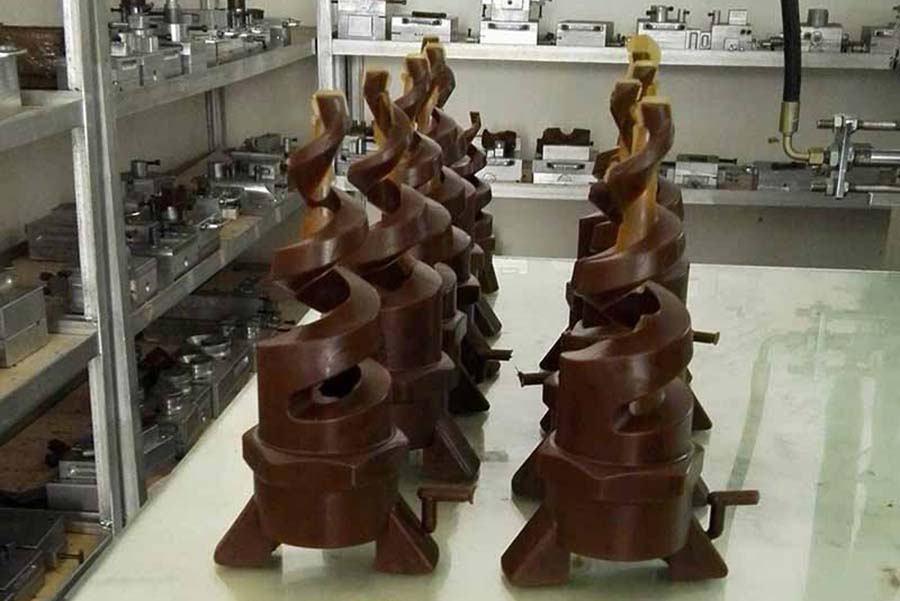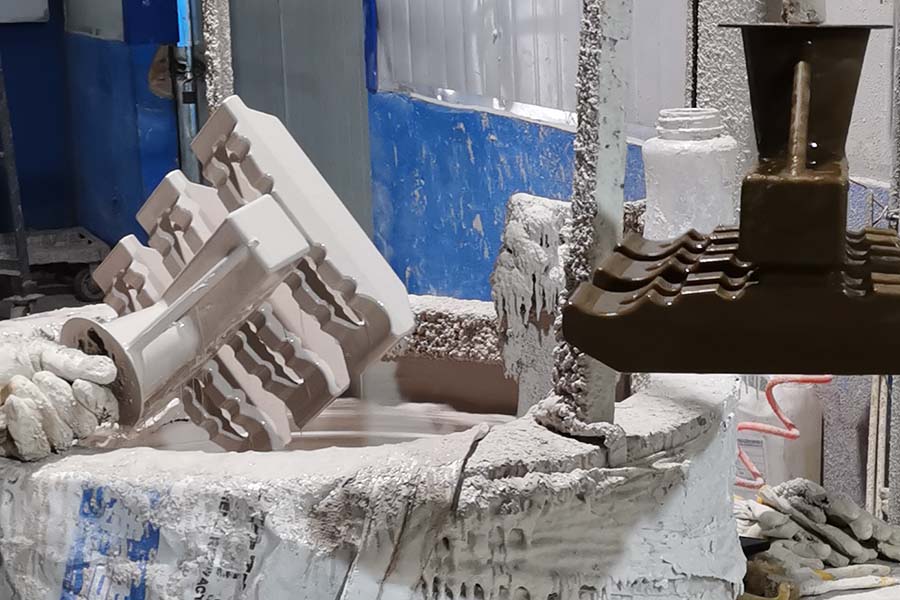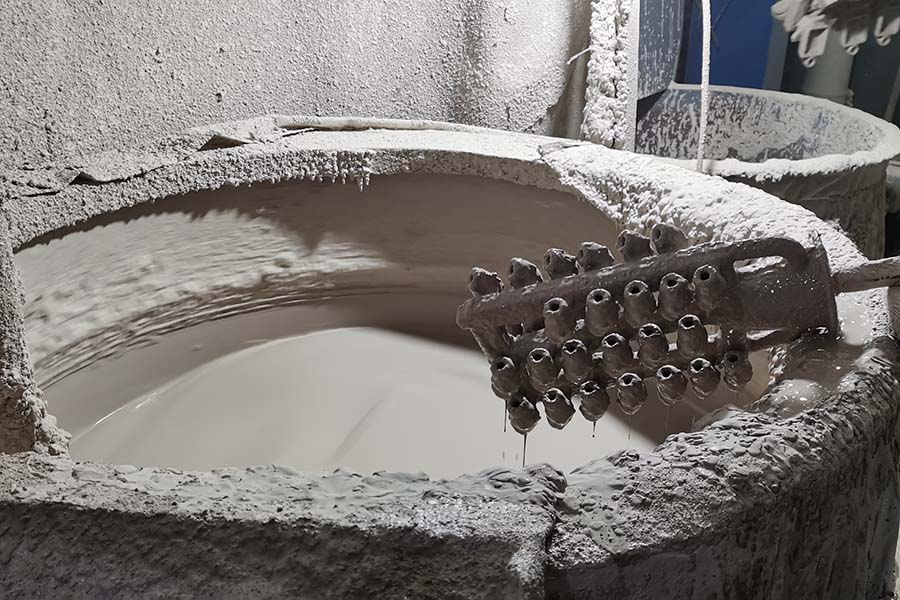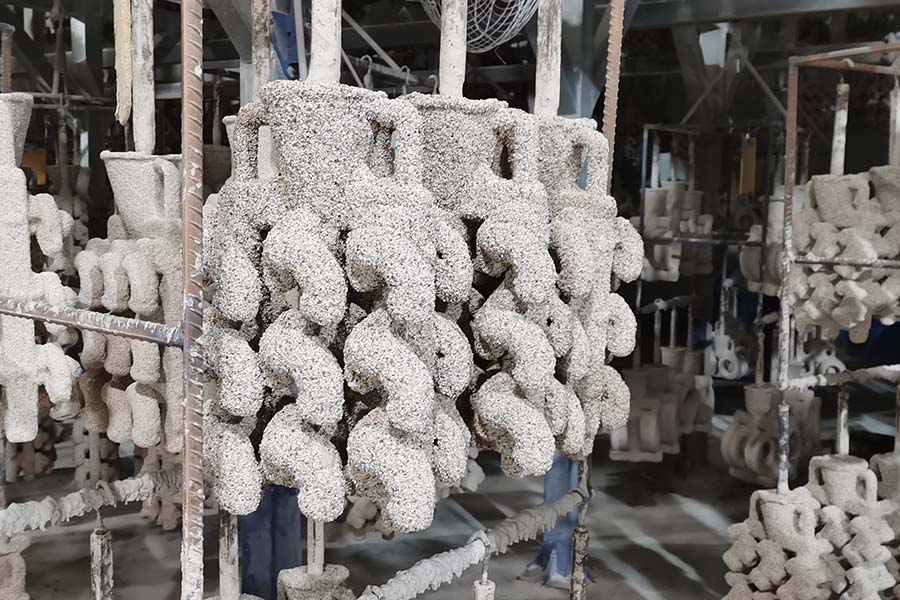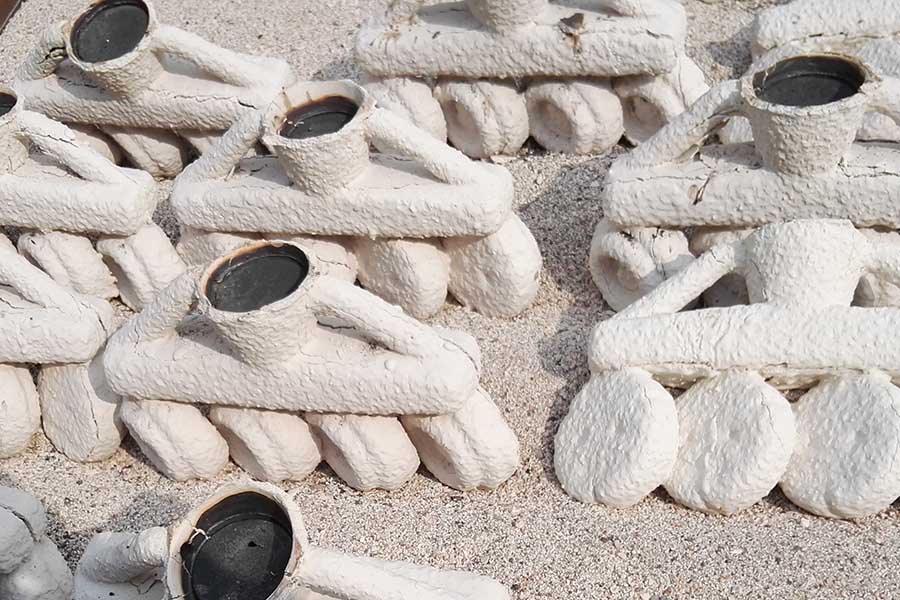 Shell for Investment Casting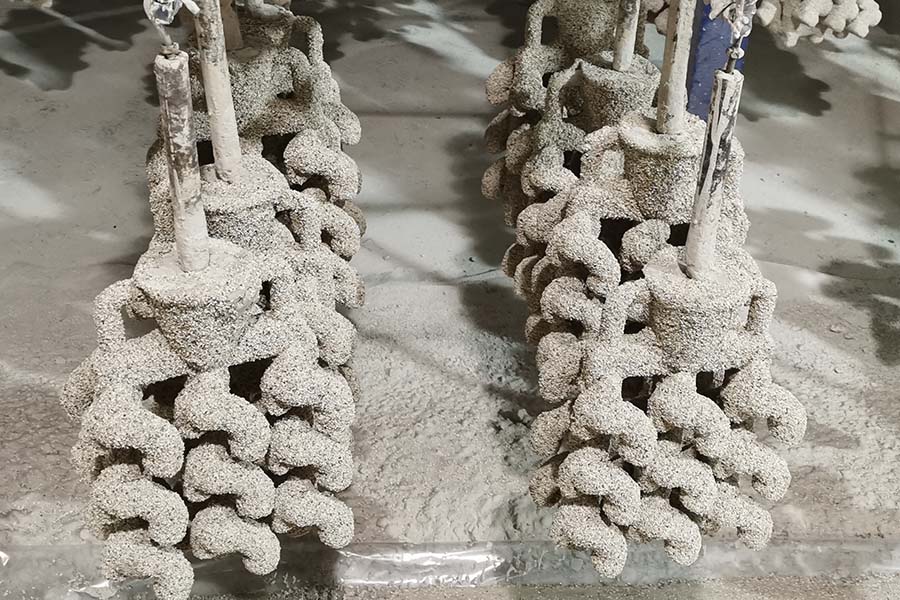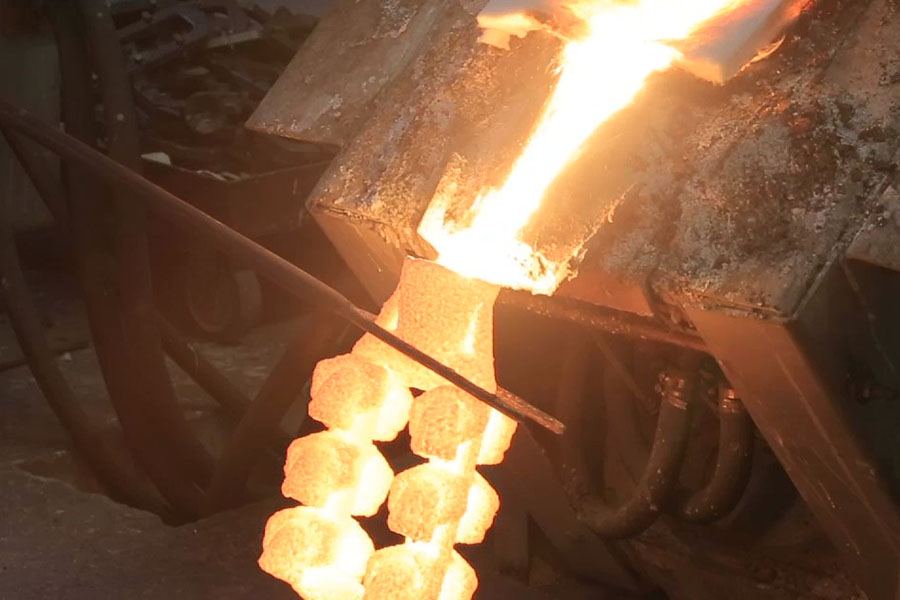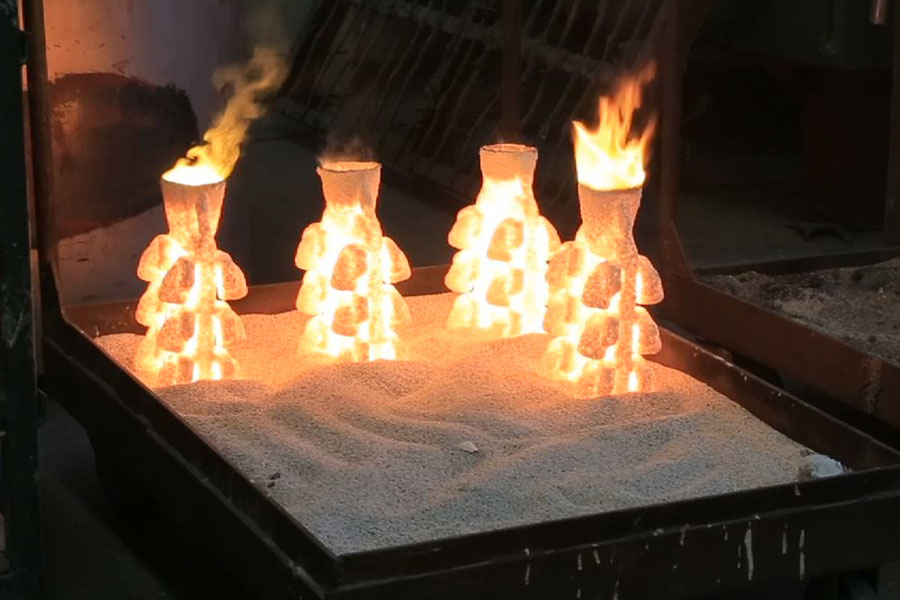 Cooling and Solidification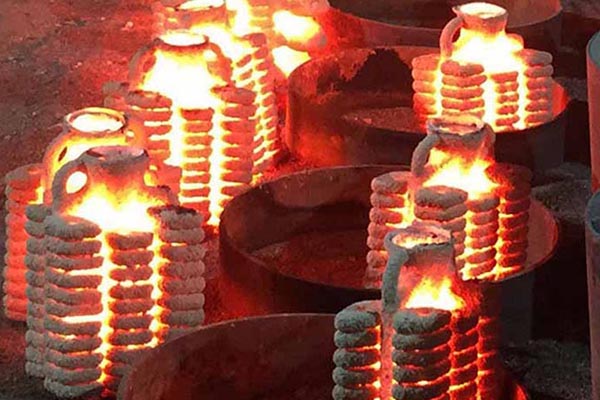 Investment Casting Process
Which Industries Our Investment Castings Are Serving
Parts made by investment casting are utilized to cast a wide variety of items, including high quality, high performance industrial parts of complex structures. The application of the investment casting parts covers a wide range of industries, in our company they are typically used in the following areas:
| | |
| --- | --- |
| • Valve and Pump Parts | • Logistics Equipment |
| • Heavy Duty Trucks | • Agricultural Equipment |
| • Automotive | • Hydraulics |
| • Construction Equipment | • Railroad Trains |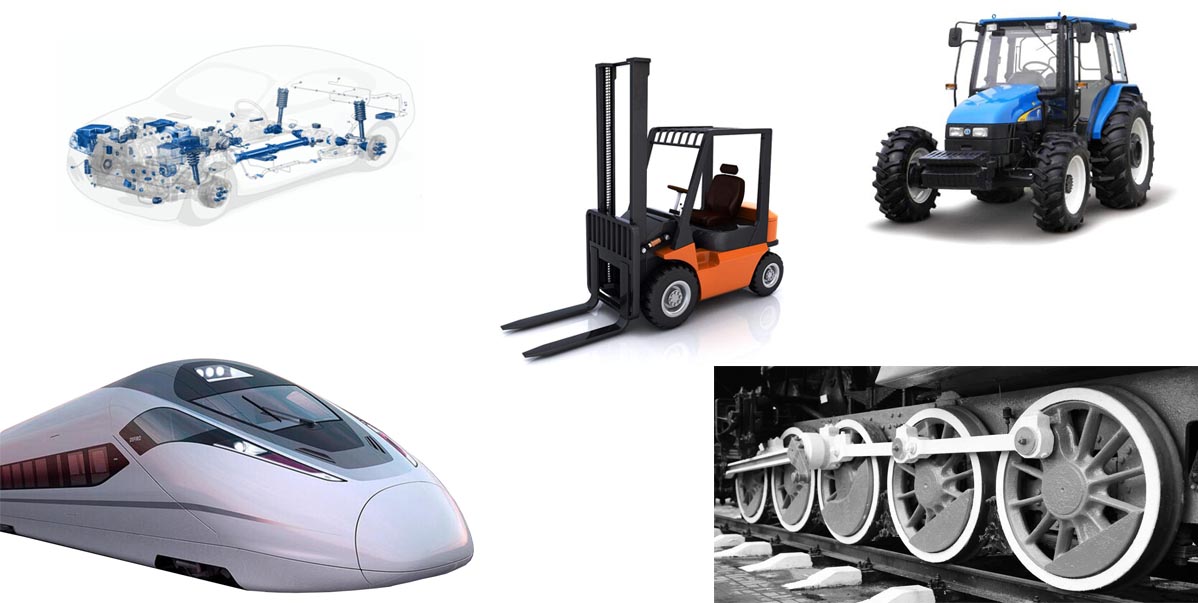 Applications of Investment Castings
We Can Do More by Offering Investment Casting and Other Services:
At RMC, we pride ourselves in offering our customers the service from patter design to finished castings and secondary processes. Our services include:
- Pattern Design and Cost Down Recommendations.

- Prototype Development.

- Production Research and Development.

- Manufacturing Flexibility.

- Qualification and Testing.

- Heat Treatment and Surface Treatment available.

- Outsourcing Manufacturing Capabilities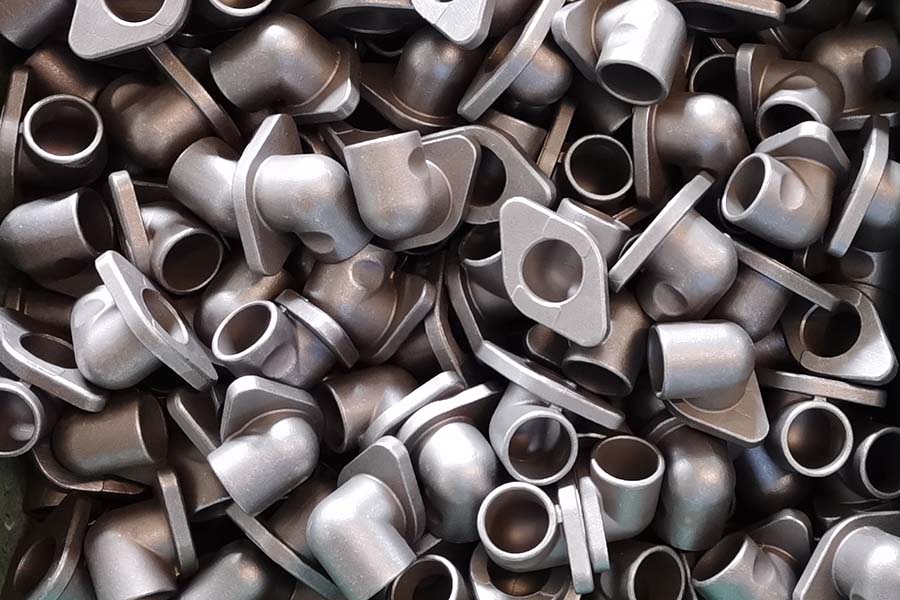 Stainless Steel Investment Castings
Why You Choose RMC for Producing Investment Castings
There are several reasons to choose RMC as your source for investment castings. When you make you decision, you may care about the following points which we are good at serving: 
- Engineering team whose members are focusing on metal casting field.

- Extensive experience with complex geometries parts

- A broad range of materials, including ferrous and non-ferrous alloys

- In-house CNC machining capabilities

- One-stop solutions for investment castings and secondary process

- Consistent quality guaranteed and continuous improvement.

- Teamwork including toolmakers, engineers, foundryman, machinist and production technicians.